About Organically Wicked
We love our products like our people:non-toxic. Organically Wicked is a women owned, mother/daughter brand. We create soy candles, wax melts and room sprays that are made with all natural ingredients which make for a cleaner and longer burn time—all while smelling delicious. Each product is hand poured in small batches, carefully made with you in mind. 
Organically Wicked
Regular price
Sale price
$25.00 USD
Unit price
per
Sale
Sold out
Share
Scent List
Aloha Baby!: Smells like a soft, tropical oasis with notes of white tea, mango, pineapple, and sweet cardamom.
Apple Bottom's up: Smells like sweet and crisp apples, cinnamon and maple bourbon.

Bad & Boo-zy: Smells like dark rum, butterscotch and buttery crème brûlée.
Baecation: Smells like spring and summer in a candle! Notes of sea salt, orchid, santal and coconut.

Barbershop: Smells fresh and clean like aftershave, with notes of mint, bergamot, tobacco, and grapefruit.
Big Zaddy: Notes of spice, warm amber, fresh green. Smells like egyptian amber and a sexy man.
Black Boy Joy: Notes of lemon lime, coconut, teakwood and bamboo. Smells like mahogany coconut & bamboo.
#Blessed: Notes of earthy frankincense, myrrh and warm vanilla sugar. Smells very comforting and calming with hints of vanilla.
Boss Babe: Sultry, sexy and warm. Notes of black orchid, cashmere and dark vetiver.
Candy Rain: Smells like the throwback fan favorite scent, Sweet Pea. Juicy, and floral with notes of sweet pear, raspberry and wild honeysuckle.
Cartoons & Chill: Notes of cereal milk, sweet orange, and tangy cherry. Smells like Froot Loops.
Christmas Kisses: Smells like Christmas with notes of peppermint, evergreen and cedarwood. Imagine Christmas trees mixed with a hint of sweetness.
Cuddle Buddy: Smell's like your man's hoodie or flannel. Masculine and fresh with notes of bergamot, mahogany and musk.
Day at the Spa: Notes of jasmine, lilac and sugar. Smells like the perfect spa day.
Deja Boo: A spooky combination of sweet and spicy. Smells like black currant, fiery cinnamon, and dark amber.
Fresh 2 Death: Notes of citrus blossom, peony, lavender & linen. Smells like gain & fresh laundry.
Go Shawty, it's Ya Birthday/Happy Birthday B*tch: Tell your loved one or bestie Happy Birthday! Notes of buttercream, strawberries, and vanilla bean.

Holidaze: Smells like cranberry woods, golden apple and sweet orange.
Hurricane SZN: Notes of lily, jasmine, hibiscus and musk. Smells like freshly picked lilies. Very sweet, like baby bottle pops...if you're a 90's baby then you know.
I got that Fall Feelin': Smells just like fall with notes of patchouli, fireside and marshmallows.
It's a Vibe: Smells like calming lavender, vanilla bean and cleansing sage.
Just Breathe: Notes of pineapple, sage, eucalyptus and rosemary. Smells like pineapple & wooden foliage.
King Cake: Happy Mardi Gras SZN! King cake in a candle, smells like vanilla buttercream, cinnamon sugar and clove.
Leather & Lace: A little sweet, sultry and seductive with notes of leather, warm cashmere, and freesia.
Let's Get Figgy: Warm and cozy with a hint of sweetness, with notes of carmelized brown sugar, fresh fig, and coconut milk.
Lemon Berry Twist: Smells like buttery lemon pound cake and blueberry cobbler all mixed in one. Citrusy and fresh with a hint of sweetness.
Moody Monday: Dark and moody with notes of rose, palo santo and frankincense.
Nola: Notes of butter rum, clove and brown sugar. Smells like crème brûlée.
Oatmilk & Honey: Smells like a warm hug. Notes of warm oatmeal and sweet honey.
Peach Bellini: Smells just like the infamous drink with notes of juicy peach nectar, agebd bourbon, and strawberry ale.
Peppermint Baddie: Smells like minty candy canes with a hint of chocolate amber.
Pillow Talk: Masculine, sexy and so seductive with notes of woodsy vanilla, lavender, smoke and spice.
Pumpkin Berry Pancakes: Smells like delicious blueberry pumpkin pancakes with notes of pumpkin spice, blueberries and ginger.
Purple Rain: Notes of black amber lavender and vanilla. Smells calming and relaxing.
Shea Butter Baby: Notes of cocoa butter, jasmine, cedar wood, & patchouli. Smells like cocoa butter and patchouli.

Sleigh All Day: smells like white birch, eucalyptus and cedar musk. The perfect holiday scent!
Spiked: A delicious holiday scent with notes of amaretto, buttercream, chai and clove.
Sun Kissed: Smells like a citrus explosion with notes of juicy, summer orange, fresh lemons and key lime. Perfect to light in your kitchen area to freshen things up .
The Boardwalk: Smells a lil fruity and a lil salty. Like you're at Coney Island or a State Fair. A blend of salt water taffy, banana, peach, waffle cone and chocolate amber.
Vanilla Bliss: Smells like soft french vanilla.
Woke AF: Notes of soothing and refreshing peppermint, eucalyptus and spearmint. This scent will for sure wake up! Gives aromatherapy vibes.
Candle Care
When lighting a soy candle for the first time, allow the wax to melt all the way to the sides of the container. Depending on the container size, this should take around 1-3 hours.
Failure to do this will often cause "tunneling" which will limit the life of your new soy candle.
Soy wax does not burn as hot as paraffin wax, so soy wax candles require a thicker wick, which does not burn 100% and needs to be trimmed regularly (can use your fingers to pinch the old wick or wick trimmers).
Aim to trim your wick to about 1/4"/6-8mm before you re-light your candle. This will ensure a long lasting candle, minimize soot and remove any mushrooming of carbon on the end of the wick.
Extinguish your candle by dipping the wick into the melted wax and straighten. This will stop the wick smoking and will help with re-lighting the next time. Please remember the candles are hand poured, not massed produced- and although every effort is made to ensure consistency, every candle will be a little different. When using completely natural soy wax, sometimes you may notice darker patches or "wet" spots in your container candles. This is not a fault, simply a small blemish where the wax has not adhered to the glass 100%. The top of your candle may also appear slightly uneven, this is also a sign of natural soy wax being hand poured.
View full details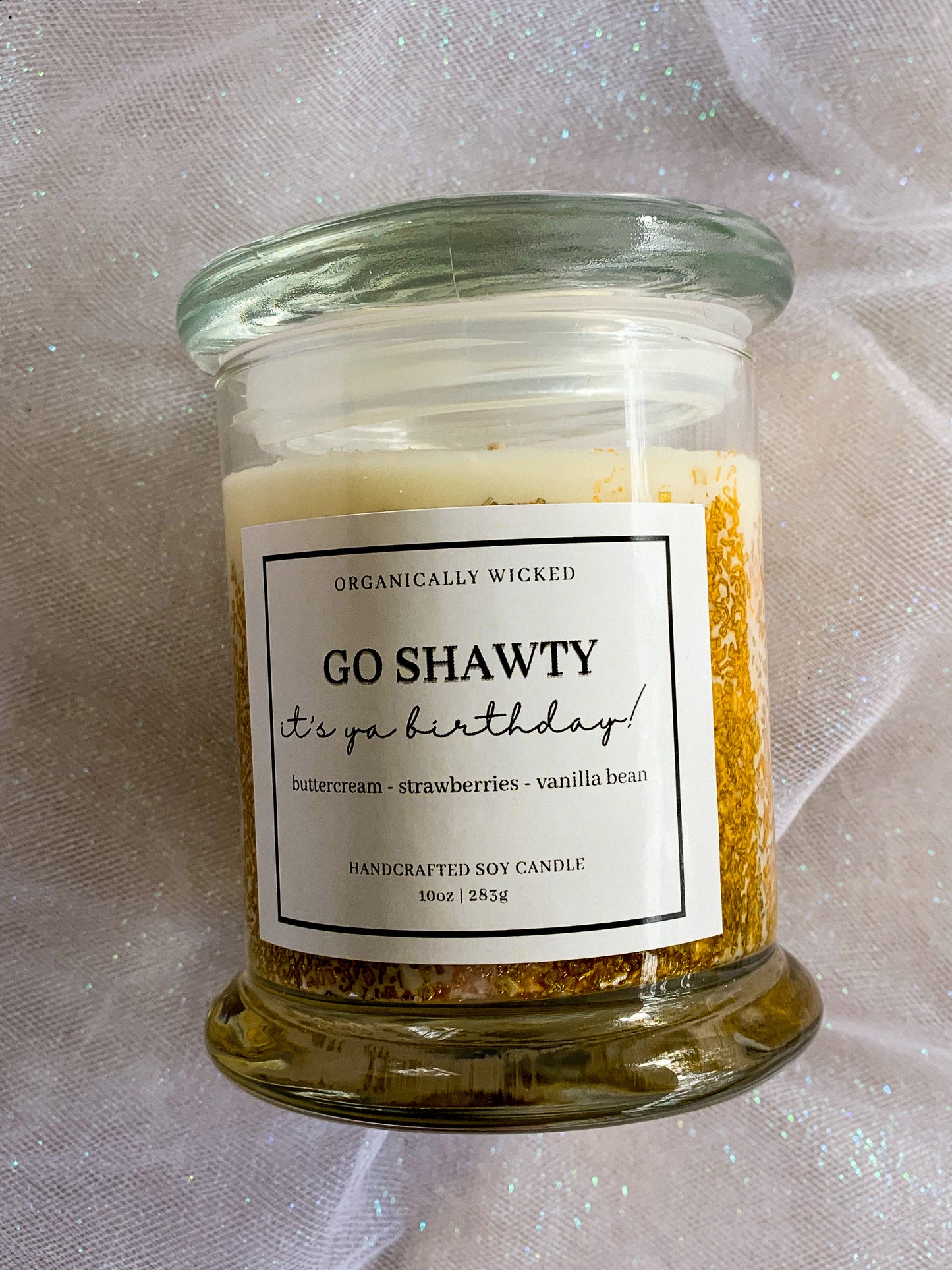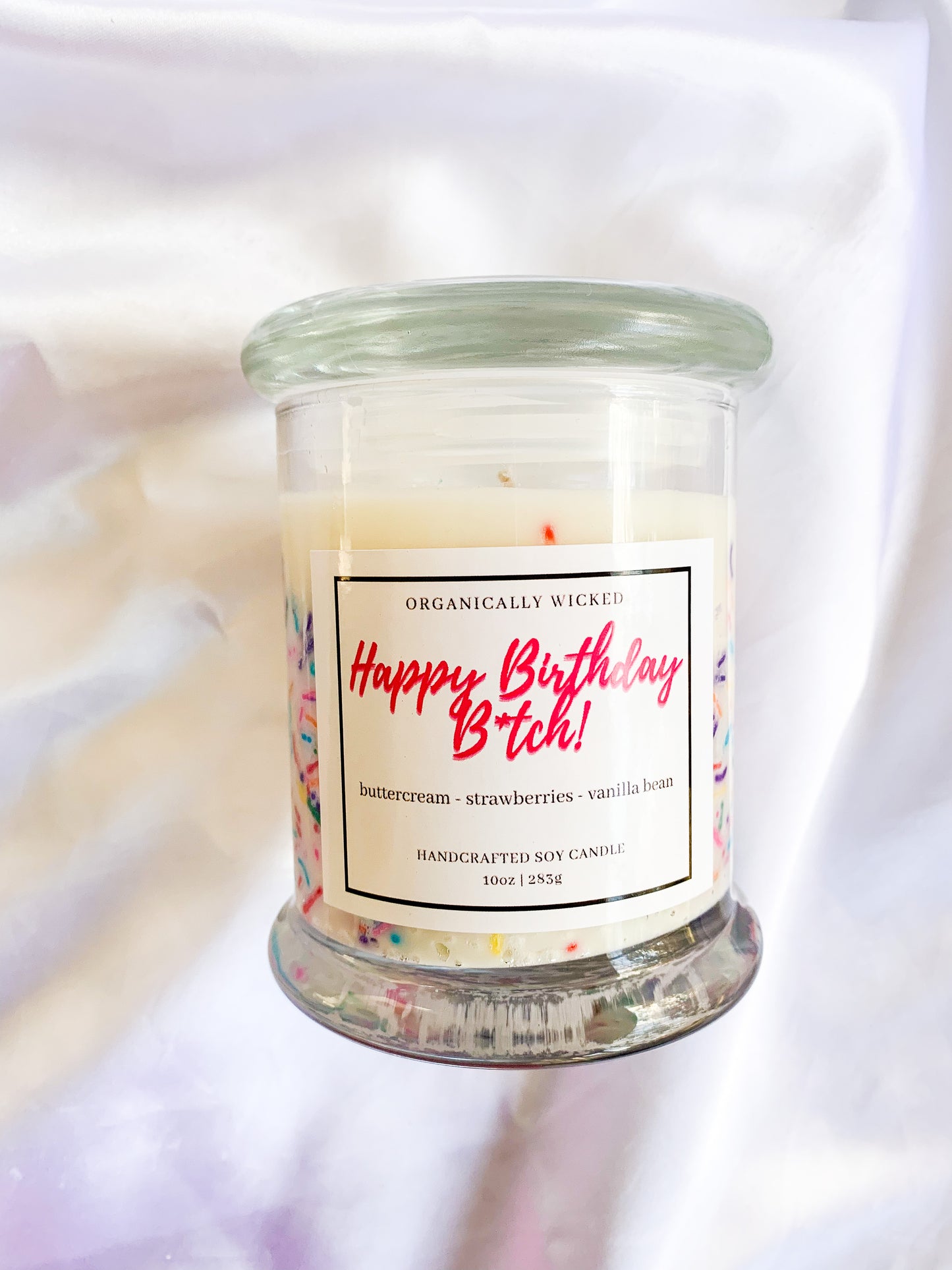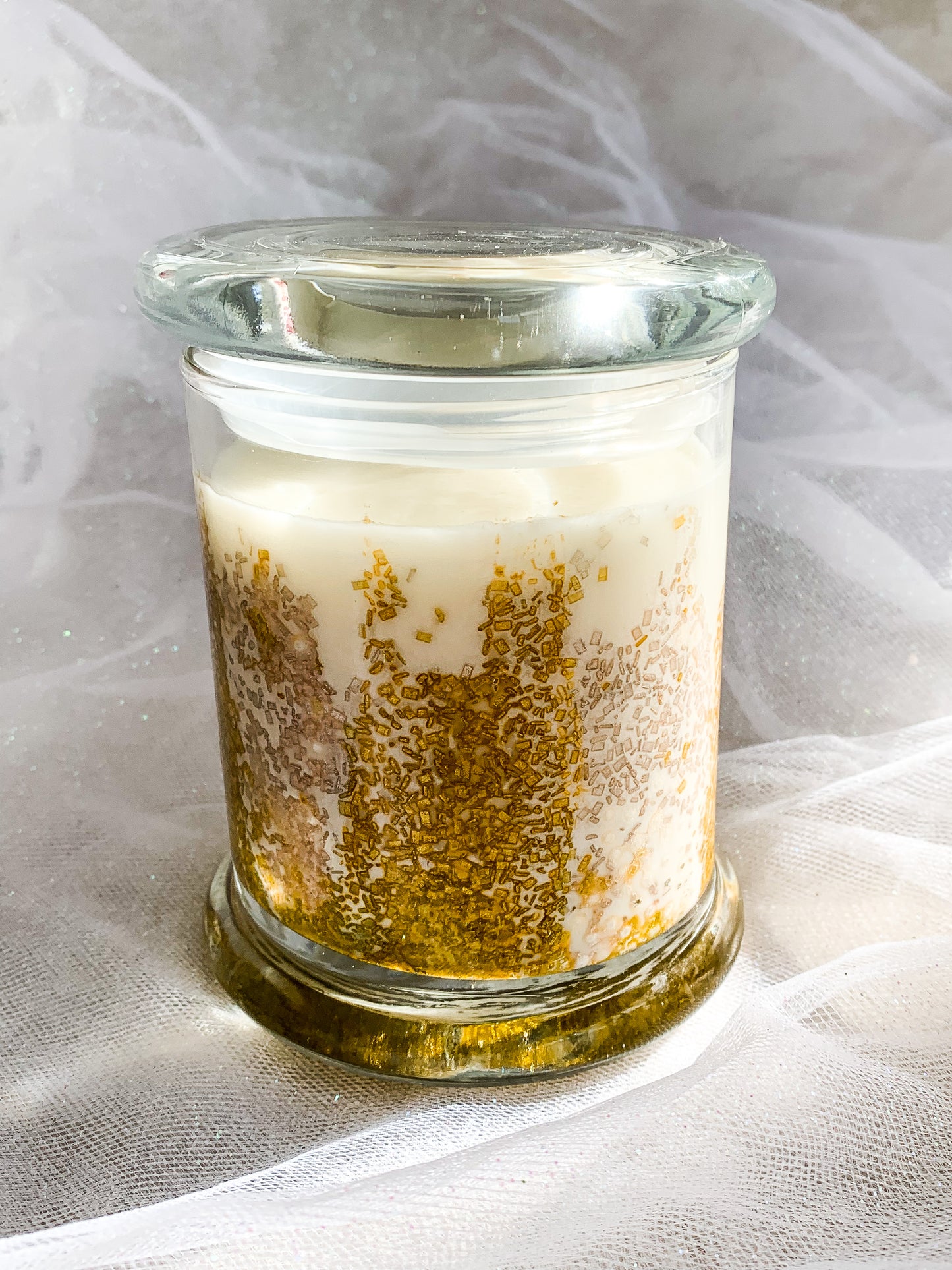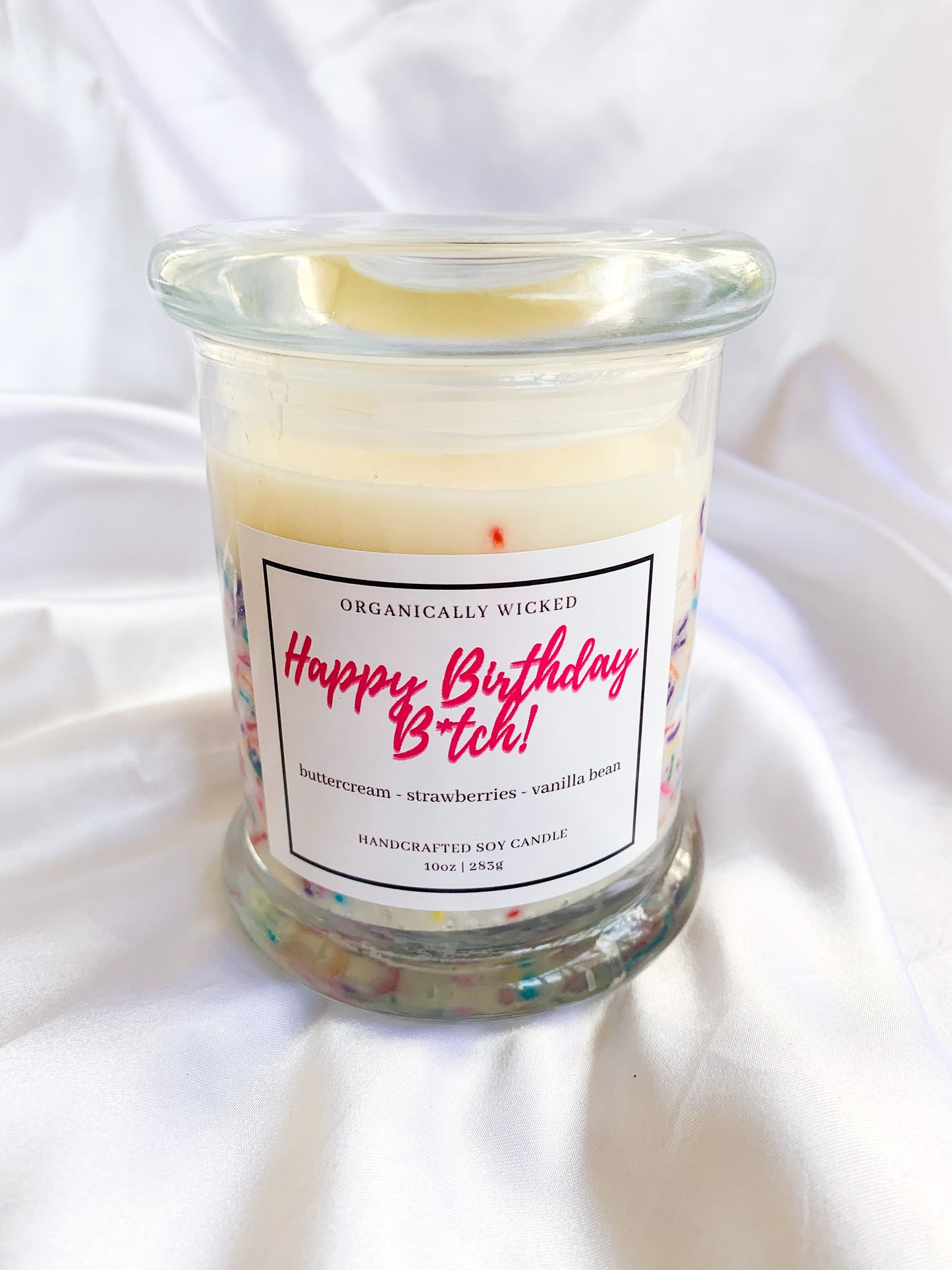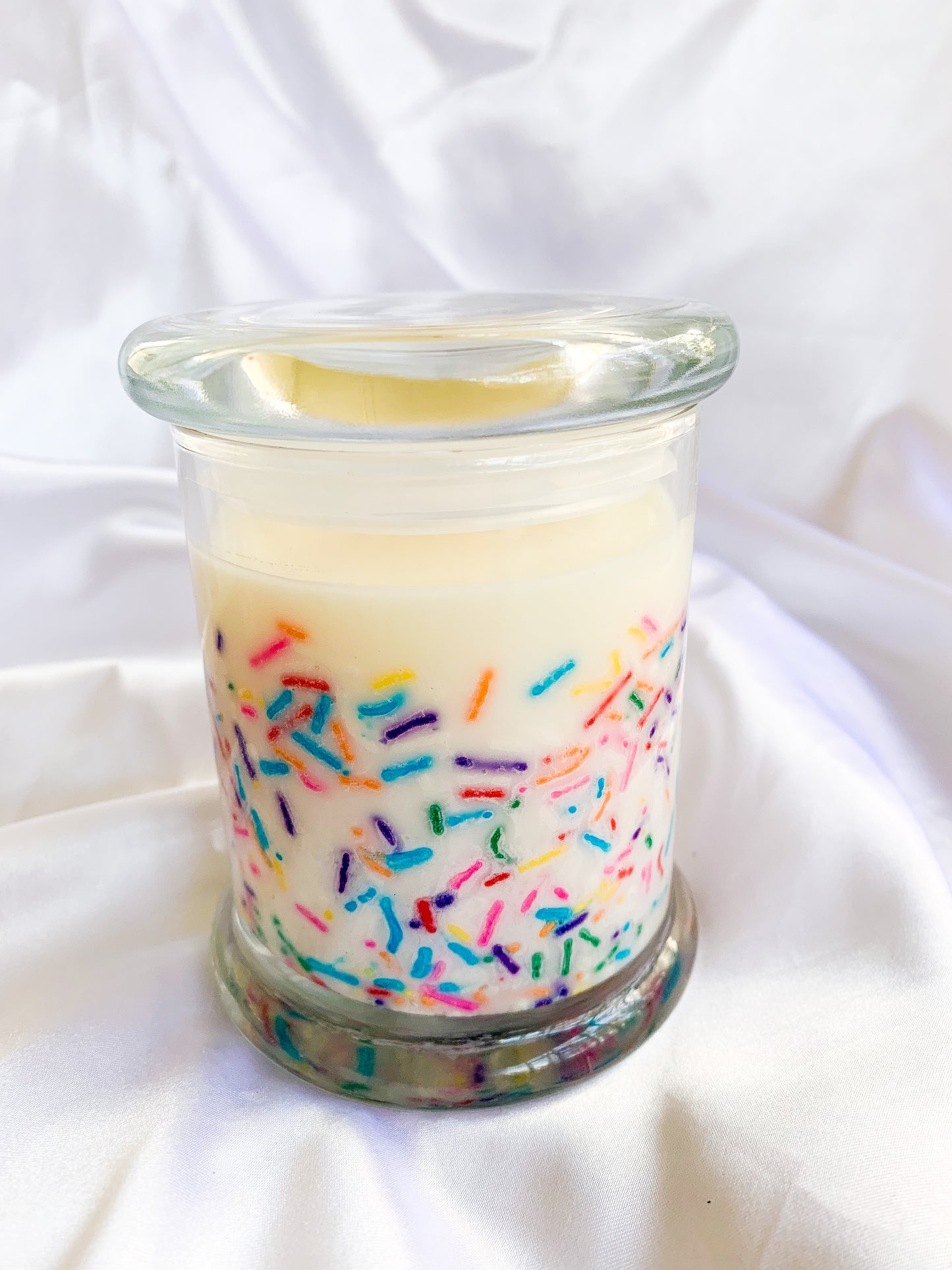 Let customers speak for us